Products
Spray & Relax works - you don't.
! WOW ! Spray & Relax is Commercial Strength....
....which means you only have to add 1 part chemical to 10 parts water...!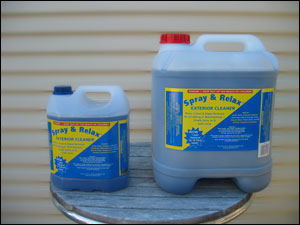 Non caustic, non bleach and non acidic. It is a concentrate with a big coverage - 4-5 square metres per litre depending on how porous the surface is. Spray & Relax keeps working for you over a period of several months or until the surface is free of moss, lichen and algae. We supply selected shops in the North Island.
ORDER NOW - available in a 10 litre concentrate which makes 100 litres & a 20 litre concentrate which makes 200 litres.

10 litre size @ $97.00
20 litre size @ $187.00
Contractors Supplied